Talanx is one of Germany's largest investors in wind turbines, both onshore and offshore. It has a total of 21 wind farms in its portfolio, three of which are out at sea. Talanx was also involved in the financing of the first offshore wind farm to use a green bond – "Gode Wind 1" in Germany's North Sea. In 2017, the company again acted as lead manager for a bond pitched at institutional investors and banks for the successor project, "Borkum Riffgrund 2". In 2020, Talanx's infrastructure specialists contributed their expertise to the partial financing of the "Hohe See" and "Albatros" wind farms, coordinating a green bond for Germany's largest offshore wind farm project. All three finance projects, which have a total volume in excess of €1.9 billion, meet independently audited green bond standards.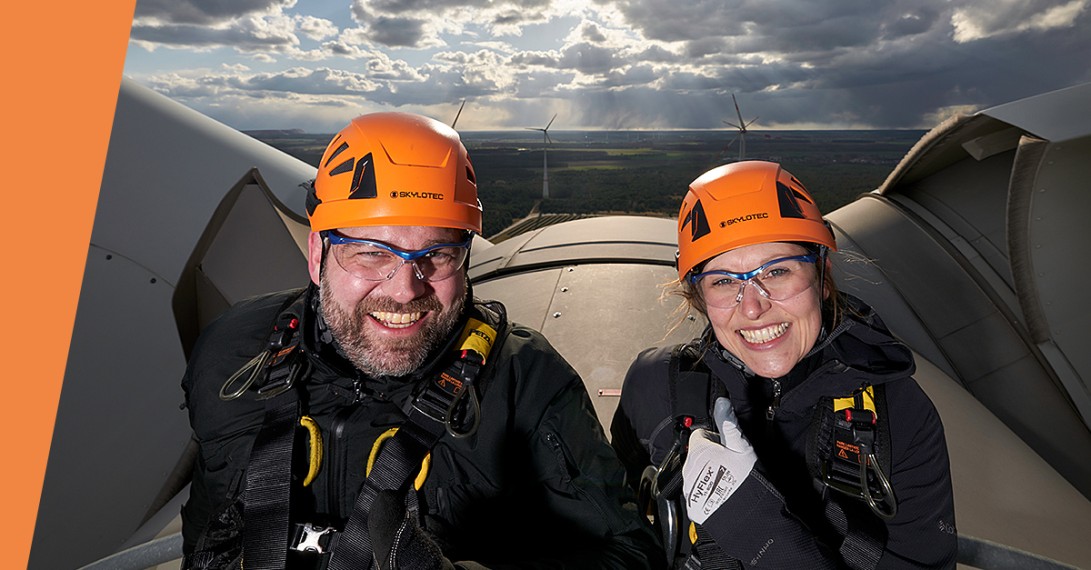 Dr Peter Brodehser, Head of Infrastructure at Ampega, Talanx's asset management company, is responsible at an operational level for financing wind farms. He and his team are constantly on the lookout for attractive investments. However, the technology behind the turbines and the geographical location are not the decisive factors. Brodehser's people are financial experts who look primarily at the yield risk, focus on stable, reliably forecastable cash flows and prefer long durations. "The great thing is that investments in wind turbines bring a twofold return – they benefit the environment and us as insurers", Brodehser explains.
This is why Talanx decided to invest in the Mahlwinkel wind farm, which is located in the immediate vicinity of a former military airfield. The huge site, which is fringed by woods of larches, birches and oak trees, is ideal for generating electricity from wind power. The rotor blades revolve 140 metres above the ground.
The wind farm is located outside the village of Mahlwinkel in the Altmark, roughly 50 kilometres north-east of Magdeburg. Twenty turbines produce green electricity here, including the massive 2.3 MW Enercon models that Talanx has operated since 2015. Talanx's turbines in Mahlwinkel generate 90 million kw/h of green electricity a year, enough for roughly 25,000 households. Talanx's investments in renewable energies generate a total of 2,660 million kWh of electricity per year. This is enough for approximately 810,000 households – roughly the size of a city like Munich.
Investments in renewables, and especially in wind power, are no longer so simple as they used to be. The number of turbines constructed in Germany is declining because suitable locations are becoming harder to find and obtaining planning permission is getting more difficult. At the same time, however, interest among banks and institutional investors in financing wind farms is increasing. This is where the network that Ampega has built up over the years comes into its own. "You don't find offers for new wind farms in the newspapers or on the Internet", says Brodehser. "They come through personal contacts to project developers, large energy providers and construction groups." One basic principle is that Talanx always acquires the entire wind farm and not just parts of it. If the volume of finance required is too large, the Company passes on a certain percentage to partners. Both equity and debt investments are made.
Munich-based BayWa is responsible for managing technical operations at Talanx's wind farms. The company's control centre in the Bavarian capital manages roughly 1,000 wind turbines in Europe – including the ones belonging to Talanx.Moving columns of figures – produced by dedicated wind and solar software systems – advance across a huge wall monitor, while bar charts offset in blue are generated and colourful swirls indicate wind and weather. Engineers monitor developments closely. 24/7, 365 days a year, in a rolling shift system together with colleagues in Edinburgh and Bangkok. "Our job is to minimise turbine downtime", says Matthias Walter-Hobelmann, who happens to be on duty in the control centre. He acts as the linchpin between technicians, network operators and maintenance crews.
Such coordination is particularly vital in winter, when there is a lot of snow and ice around. And in spring and autumn, when cranes are migrating, red kites circle in some areas and bats flit around in the dusk. Birdwatchers and farmers observe the wildlife very closely and report them ahead of time. However, the turbines also anticipate such dangers using meteorological data and switch themselves off automatically. The aim is to ensure that generating green electricity goes hand in hand with species conservation as far as possible.