Equal working conditions are an important element of long-term business success. HDI Sigorta in Turkey has been committed to this principle right from the start and is working towards creating a working environment in which no employees experience any discrimination on the basis of their gender. This was confirmed in 2020, when the company was awarded the Equality for Women at Work Certificate for the first time.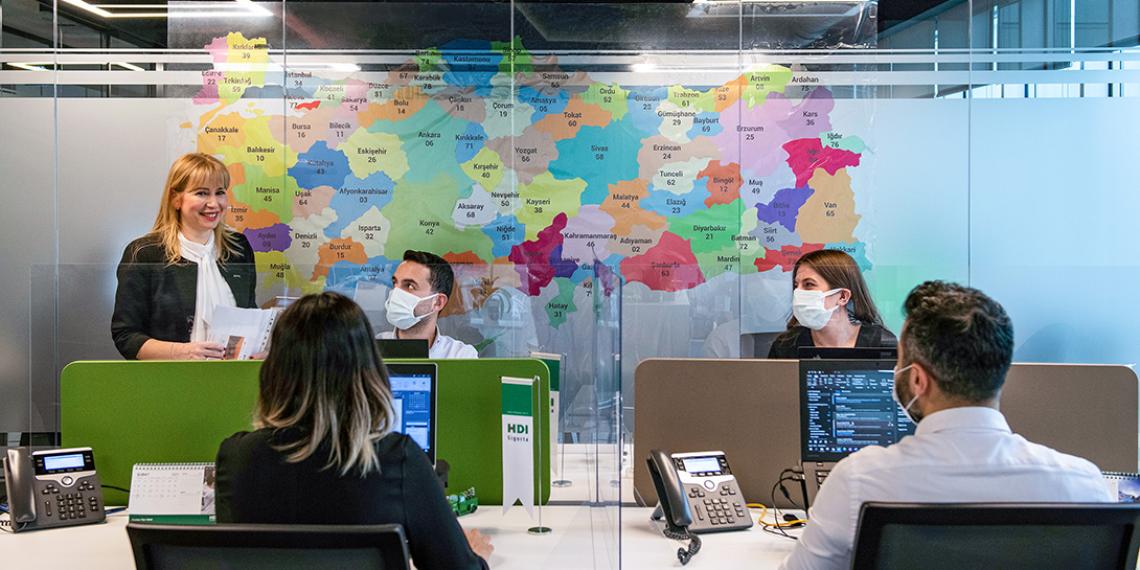 HDI Sigorta has started implementing an equal opportunities-based approach both in the company itself and in its activities as a corporate citizen. This is because we believe that equality in the workplace is important for our country and our economy. The current situation in Turkey shows that only three out of ten women who could work actually have a job. In fact, the number of unemployed women has risen by 52 percent in the past five years.
HDI Sigorta is promoting equal opportunities in the workplace through guidelines for gender equality, mechanisms for reporting cases of discrimination and equal pay for male and female employees, plus projects designed to support women in society. Today, the company employs almost as many women as men. This balanced mix also extends to management and clearly shows HDI Sigorta's aim of recruiting people on the basis of their qualifications and not their gender.
HDI Sigorta manager Nesrin Tuncer Türkgür is a good example of equality in the workplace. She has more than 25 years of experience in the insurance sector. As Head of Claims Audits & Logistics at HDI Sigorta she leads a team of 33 people, including four women.
The unit focuses on ensuring proper claims handling – without impacting customer satisfaction – and on reviewing our processes to improve efficiency. In other words, the department is an area in which professional knowledge, a detailed analytical approach, process and efficiency considerations, and service quality are required. By contrast, the Contact Centre is concerned with customer satisfaction: it has to understand customer needs correctly and handle requests and complaints correctly.
Nesrin Tuncer Türkgür's team supports customers with all claims, such as those resulting from traffic accidents. HDI Sigorta offers customers a special service for this: they can drive their vehicle to the company's location in Istanbul and have the damage assessed there, safe in the knowledge that their case will be dealt with in the best possible way. After this, Nesrin Tuncer Türkgür's team processes the claim. Where necessary, she discusses difficult cases with the team and with Nihal Asker, Assistant General Manager, Claims & Operations, who is responsible not only for the Claims unit but also for the Customer Relations and Legal departments. "I believe that we can only handle claims for our customers by taking a teams-based approach and by leveraging all the knowledge we have about our clients. In addition, the opportunities open to men and women are an important factor influencing our success and for customer satisfaction. This means that ensuring equal opportunities in the workplace is important for our company", says Asker.
The certification process for the Equality for Women at Work Certificate started on 8 March 2020, International Women's Day. Our CEO Ceyhan Hancioğlu announced that HDI Sigorta would be one of the first companies on the Turkish insurance market to obtain certification – and that was exactly what happened.
Audit firm Intertek focused on five core areas in the audits it performed between March and August 2020: the management system, employment practices, health and safety at work/working hours, the supply chain and the impact on society. The audits examined employee files, training materials, Social security information and vacation records, and other documents, and interviewed selected employees face to face.
The company scored 95 points out of a total of 100. "We are delighted that our ongoing efforts to achieve gender equality have been confirmed by an external body. We will keep on addressing this issue, since it is becoming more and more important", said Nihal Asker, Assistant General Manager, HDI Sigorta.
We have gained fresh ideas on how to continue ensuring employee satisfaction and build a powerful employer brand, become an employer of choice and play a key role in new partnerships, benefit from the economic value added that comes with gender equality and promote a fair society so as to ensure our company's sustainability.
HDI Sigorta also campaigns publicly for equal opportunities at work. Nihal Asker, Assistant General Manager, is Vice President of KASIDER T.C., the association for women in the insurance sector that was founded in 2020. Her goal is to share her more than 20 years of professional experience with other women. The association was founded to protect and strengthen women's legal rights so as to enable them to take their place in the world of business and receive due recognition, to eliminate gender discrimination and to ensure equal treatment in all areas such as education and training, development and advancement.
The association aims to achieve a balanced mix of male and female employees, create equal opportunities, intensify communication, promote empathy, work together in areas of significant inequality, and to stand up for women so as to increase their efficiency and productivity in the workplace.