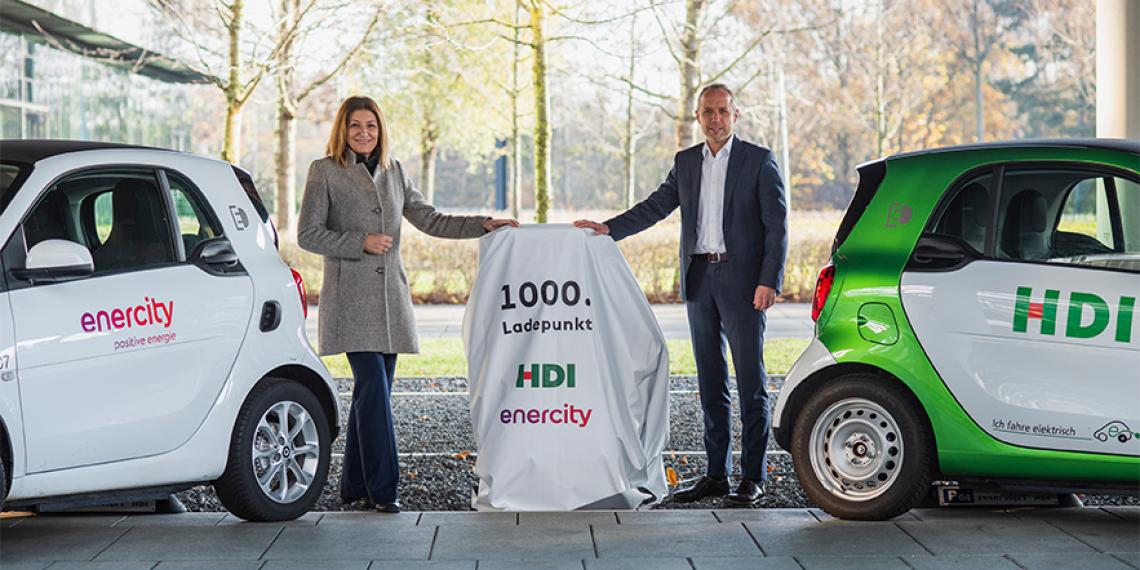 enercity is working together with committed customers to drive forward e-mobility, both in Hannover and throughout the country. The company is supporting the transition to climate-friendly e-mobility by building one of the densest networks of 24/7 charging stations in German cities − 480 public charging points are being installed in Hannover alone. However, public charging is just the tip of the iceberg: the vast majority (around 80 to 85 percent) of all charging operations are performed either at home or at work − such as at HDI.
Working together with customers to increase e-mobility
"HDI is actively contributing to environmental protection and sustainability. One way we do this is by making charging stations available to clients, visitors and employees – something we started back in 2017. We are planning to almost double the number of charging points we provide by the end of 2021 so as to keep pace with growing demands on the charging infrastructure in the future", said Dr. Edgar Puls, Chairman of the Board of Management of HDI Global SE, who is responsible not only for Industrial Lines but also for Purchasing and Internal Services on Talanx's Board of Management. There are five outdoor charging stations, one of which can also be used by visitors, at HDI's Hannover location alone. In addition, a further 14 stations are located at parking spaces for company cars and employees' electric vehicles. What is more, enercity is installing additional charging stations at HDI locations throughout Germany. e-mobility is an important part of HDI's climate strategy. The insurer has set itself the goal of achieving 100 percent carbon-neutral operations by 2030 and has committed to a rigorous mix of avoiding, reducing and offsetting emissions. Unavoidable emissions at its German locations have been offset since 2019.
"The enercity team has installed 1,000 charging points in Hannover and the surrounding region in the past two years. And for each public charging station we've made available there are currently four other charging points at committed companies such as HDI, or at private customers. We are visibly progressing e-mobility by creating these charging capabilities in partnership with our customers. They offer an absolutely hassle-free way for more and more people to experience e-mobility", said enercity head Dr. Susanna Zapreva, welcoming the milestone.
Hannover's charging infrastructure is one of the best
A total of 3,183 e-vehicles were registered in the region at the beginning of the year, 1,421 of them in Hannover (source: KBA – Germany's Federal Motor Transport Authority – as of 31 Dec. 2019). This figure is expected to rise to around 6,000 e-vehicles by the end of 2020, meaning there will then be six cars for each public or private charging station installed by enercity in the Hannover region. The capital of Lower Saxony itself is one of the leading German cities when it comes to public charging infrastructure. At 56 charging points per 100,000 inhabitants it ranks third, immediately behind Munich and Hamburg. Measured in terms of charging points per e-vehicle it comes fifth, with a figure of 0.2. In other words, there are five e-vehicles for every public 24/7 charging station.
Regional commuting offers immense opportunities for e-mobility
Despite the commonly heard argument about its limited range, e-mobility is actually suited to large-scale deployment. Streams of regional commuters travel regularly between their homes and workplaces, offering immense opportunities for e-mobility. On average, city dwellers travel just 22 kilometres per day in their cars. The highest distances recorded (37 kilometres per person) are in small towns and rural communities. Since 2015, the average annual mileage per car in Germany has been well under 15,000 kilometres, a figure that is continuing to decline. Frequent and long-distance drivers account for less than 10 percent of national car traffic.